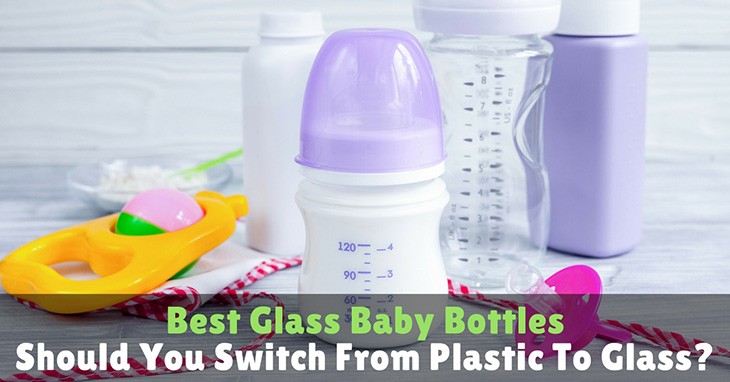 Best Glass Baby Bottles – Should You Switch From Plastic To Glass?
If you are a first-time parent, you may be astonished to know that there are many types of baby bottles. Nowadays, you can get bottles made of silicone, BPA-free plastic as well as steel. Many moms are also turning to best glass baby bottles today as more parents are becoming aware of harmful chemicals that may be present in plastic bottles.
Like many other parents, you may want to consider buying glass baby bottles if the BPA scare gets you worried about dangerous additives plastic baby bottles may contain. Glass baby bottles today have been upgraded and are the fastest growing category in the baby bottle industry. The demand for glass baby bottles is increasing in the past few years. Some glass bottles come with silicone sleeves to prevent breaking and help babies have a better grip.
More...
**Below, you'll find more detailed reviews, but you can also click links above to check current prices and read customer's reviews on Amazon.
Best Glass Baby Bottles – Should You Switch From Plastic To Glass?
Advantages Of Using Glass Baby Bottles
Many parents are still having second thoughts whether to buy plastic bottles or glass bottles. Plastic baby bottles are usually cheaper and unbreakable. These are the reasons why plastic ones replaced glass in the marketplace for years. Because they are also lighter than glass, allowing your baby to hold it on his own easier.
The main issue with older plastic baby bottles is that some are made with polycarbonate plastic or number seven plastic. This plastic is known to leach bisphenol A (BPA), a compound that mimics estrogen in the body and may result in developmental hormonal disturbances in young children. Newer models are now made from BPA-free plastics.
On the other hand, glass baby bottles are naturally BPA-free. They are heavier and may break if dropped, but these items significantly reduce the worries of most parents. Fortunately, most glass bottles are now made from tempered glass, which makes them more durable and harder to break. Here are some reasons why glass baby bottle is a great choice:
1. Chemical Free
Glass is free of BPA by nature. Like Dr. Brown's Options Glass Bottle, they do not contain any chemicals, making it a safe bet to use for your child's milk. Many plastic baby bottle manufacturers have stopped using BPA in their products, but some are using an equally harmful chemical called bisphenol-S (BPS). It has been shown that BPS has similar hormone-mimicking qualities as BPA.
2. Better Choice For Breast Milk
Breast milk contains essential nutrients, vitamins, fat and antibodies that your baby needs. The fats from breast milk tend to bind to the sides when using plastic bottles. This does not happen to glass bottles due to its anti-binding properties, giving you an assurance that your baby can get more nutrients.
3. Easier To Clean
Unlike plastic, glass bottles do not absorb germs and food as they have a non-porous surface. Glass does not scratch easily and won't keep the smell of milk. Scratches in plastic bottles collect over time and may eventually allow bacteria to grow. Also, glass bottles like Baby Brezza 2 Piece Glass Bottle are safe and resistant to high temperatures of boiling water or dishwashers. It is also easy to see when they are completely clean.
4. Safe For Heating Milk
The glass used for storing beverage and food does not emit harmful chemicals. When using a plastic baby bottle, contaminants present may leach out into the milk when heating it up. With glass bottles like Philips AVENT Natural Glass Bottle, you can safely heat your milk without worries that you are releasing chemicals into your baby's meal.
[ Read: How To Scald Breast Milk: A Step By Step Guide? ]​
5. Plastic Baby Bottles Produce Strong Odor
When you first start using a plastic bottle, you can detect the strong smell of plastic that may affect the taste of your milk. It takes a lot of washes before the plastic smell and taste fade away. This would not be a problem with glass baby bottles. Glass will repel these so your milk has a fresher taste even when reheated.
6. Reinforced
Glass baby bottles today are now made of reinforced glass. You can store milk in the freezer using these bottles, and they will not break even if soaked in boiling water. Even if you accidentally drop it, they are designed to disintegrate into rounded pebbles instead of sharp splinters.
7. Better For The Environment
When you are done with the bottles, you can place them in a recyclable bank. Almost 80% of recycled glasses are reclaimed as the quality is not compromised. You can also use glass bottles for storage for a long time, so there is no need to throw it away. You can see it as doing your part for the environment.
Of course, there are disadvantages of using glass bottles. They are breakable if dropped on the ground. Always be careful when carrying and washing glass bottles to prevent frequent replacement. If you have used plastic bottles before, you will also notice that glass bottles are heavier. They are also more expensive than plastic bottles, but you will save money in the long run, making it a long-term investment.
5 Best Glass Baby Bottles
Looking for best glass baby bottles for your child can be hard as there are thousands of options available in the market. To help parents find the right item, we have made a list of glass bottles along with their features.
This glass baby bottle by Philips AVENT comes with a wide, breast-shaped silicone nipple to promote natural latch on. This makes it easier to combine bottle feeding with breastfeeding.
This bottle is made of premium quality, pharmacy-grade borosilicate glass, making it thermal shock and heat resistant. It has a wide neck opening that allows parents to fill and clean the bottle easily. A measurement guide is also included to show how much your child eats.
This ergonomic bottle is easy for parents and babies to grasp.
It comes with a wide neck opening to make filling and cleaning easier.
The breast-shaped Natural slow-flow nipple helps parents combine breastfeeding and bottle feeding. Its shape promotes easy latch-on so babies can feed comfortably.
The nipple has twin anti-colic valves that release air back into the bottle rather than into your baby's mouth. This reduces discomfort and colic.
This natural glass bottle is made of premium quality borosilicate glass, a BPA free material.
Easy to wash and sterilize, this bottle is compatible with all Natural Philips AVENT Bottles and Parts.
Replacement cap can be expensive. It is advisable to not lose the cap as the only place to order is through Philips.
---
If you are looking for a glass bottle that closely mimics the breastfeeding experience, Dr. Brown's is a good option to consider. Glass baby bottles from Dr. Brown's come with a nipple venting system that allows air enter the bottle collar, going straight into the internal vent system. The air goes through the vent tube and back to the bottle instead of the milk. With its controlled flow, babies feed comfortably without interruptions.
This glass bottle by Dr. Brown's can be used with or without the vent system. This system is designed to grow with baby. As your baby's feeding becomes more developed, the vent can be removed.
BPA-free, this bottle comes with a nipple venting that provides a feeding experience similar to nipple-vented bottles.
Known for reducing spit-up, colic, burping and trapped gas in the stomach, these bottles help in decreasing feeding problems.
These bottles preserve bottle milk nutrients (Vitamins A, C, and E), which are critical for the development of babies.
Bottles come with 3-level one silicone nipples and silicone sleeves. There are also many colors to choose from.
The main complaint of some parents is that the anti-colic vent is made from plastic, which opposed the reason why parents switched to glass bottles.
---
The NaturalFit Glass Baby Bottle by Chicco has an anti-colic design to mimic breastfeeding with breast-like and slow flow angled nipple. The nipple is made from skin-like soft silicone for a good and secure latch. The non-slip texture also assists baby from breaking the latch. This item comes with straight and angled nipple to give parents choices for the best feeding position. It has 3-piece design and wide neck for easy filling and cleaning.
The wide and breast-shaped nipple allows baby to latch on securely and easily. Its unique angled nipple supports cradle position of breastfeeding.
Chicco NaturalFit Glass Baby Bottle has a slow flow rate that mimics the flow of the breast.
Medium flow rate for growing appetites is also included, as well as fast flow rate for bigger children.
It has dual anti-colic valves that prevent babies from ingesting excess air. These reduce spit-up, gas and other signs of discomfort.
Bottles and nipples are clinically tested, anti-colic and BPA-free.
It comes with a silicone sleeve that improves grip, provides an anti-skid to protect the bottle, and reduces heat transfer.
It may leak, but most parents who purchased this item are happy and contented with this glass bottle by Chicco.
---
This glass baby bottle by Baby Freeza comes with a breast-like nipple for easy transitions from breast to bottle and back. Made from borosilicate glass, it also promotes healthy oral development while limiting nipple confusion. With its anti-colic TruFlo vent system, it minimizes gas during feedings. It also has an ultra-wide mouth to allow parents fill and clean the bottle effortlessly. Its ergonomic shape makes it easy for parents and babies to grasp.
Baby Brezza glass bottle comes with a breast-like nipple to promote healthy oral development and limit nipple confusion.
It has an anti-colic vent system to significantly reduce gas. It allows air in as milk comes out to prevent air from passing through the milk when feeding.
Made of borosilicate thermal shock resistant glass, this bottle is safe to use from refrigerator to warmer.
With only two parts, serving and cleaning this bottle is a breeze. This BPA-free bottle is shaped with both parents and babies in mind.
It comes with an ultra-wide mouth for unprecedented access to the interior, allowing parents to pour without spills of precious breast milk or formula.
When the bottles are heated, the seal on top loosens and may spill if not re-tightened before feedings.
---
This glass baby bottle by Lifefactory comes with protective silicone sleeve, polypropylene cap, stage 2 silicone nipple, ring and stopper. Made of thermal shock resistant borosilicate glass, it transitions safely from freezer to boiling water. All parts included are dishwasher safe. Bottle and sleeve can be sterilized and washed together. Its protective medical-grade silicone sleeve gives a tactile non-slip gripping surface to allow parents and babies hold the bottle easily.
This innovative glass baby bottle comes with silicone sleeve, nipple for 3 to 6-month infants, cap, ring and stopper.
It is made of thermal shock resistant borosilicate glass for safe transitions from freezer to boiling water. All components are top-rack dishwasher safe.
It provides Lifefactory stage 1, 2, 3 and Y cut nipples to grow with baby. Leakproof flat caps and sippy caps are also included for years of use.
The protective medical-grade silicone sleeve makes it easier for parents and babies to hold the bottle. It also helps prevent breakage from occasional drop.
Teethers and nipples are made with medical-grade silicone. All materials are BPA/BPS-free and phthalate-free.
The neck of the bottle is narrow, making it a bit difficult to prepare formula and clean with a brush.
Conclusion
Selecting the right baby bottle for your little one can be tough, especially if you are a new parent. While plastic baby bottles were popular for a few decades, it was found that the plastic materials have chemicals that are harmful to babies. Best glass baby bottles neither expel nor absorb chemicals, making it safe for storing formula and breast milk.
We highly recommend Chicco NaturalFit Glass Baby Bottle as this item mimics breastfeeding, making it easy for babies to switch from breastfeeding to bottle feeding. It comes with straight and angled nipple for different feeding positions, and silicone sleeve is also included.
Recommended Articles:​