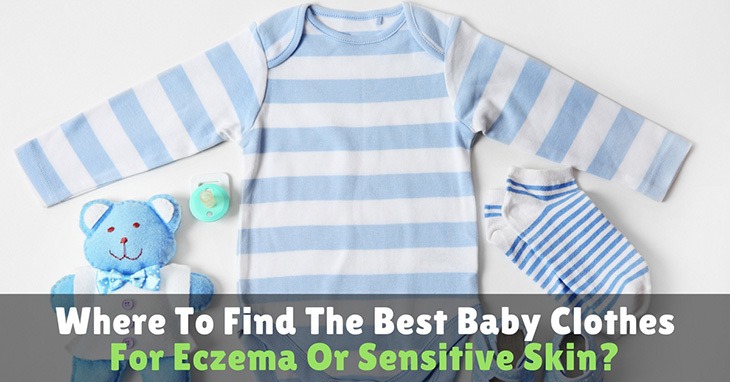 Best Baby Clothes – Best Onesies For Sensitive Skin And Eczema in 2019
Having a baby with eczema can be very overwhelming, especially for rookie mommies. According to research, 10-20% of infants develop eczema at some point. Most common among infants, eczema is generally caused by the skin overreacting to irritants. With no available cure, we do our best to minimize triggers and cope with flare-ups.
If you have a baby with sensitive skin or eczema, make sure to take a look at clothing materials. Sometimes the right pyjamas, romper or onesie is just what your baby needs to get relief.
More...
Special garments have always existed for people with skin conditions, babies and adults alike. As specialized garments, these items do tend to command much higher than average prices. While most parents say the cost is worth it, it's a relief to see new players entering the market, which should help bring prices down over time.
These clothes typically feature fancy ultra soft fabrics, tags sewn on the outside, an abundance of flat seams, extra thin materials to avoid heat buildup, and so on. Some of these baby clothes have built in socks and flippable mittens on some designs let you avoid socks or gloves with elastics that tend to trap heat and further exacerbate skin conditions.
Why Clothing Materials Are So Important
With skin sensitivities and infections on the rise in young children, parents are quickly realizing the importance and benefits of choosing the right clothes for their kids.
1. Enhanced features
Besides comfort, some fabrics offer better odor resistance, antibacterial functions, hypoallergenic properties, UV blocking and more. These are some key factors parents should look into when making a purchase of baby clothes.
2. Healthier babies
We are fast waking up to the fact that things as harmless-sounding as cotton can involve a frightening list of chemical products in their manufacturing processes. Growing awareness of the potential health effects has led to safety certifications becoming more and more common in the garment industry. Look for stamps of approval from testing groups such as OEKO-TEX®.
Knowing The Different Types Of Baby Clothes
Baby clothes come with a dizzying array of names: rompers, footies, onesies, bodysuits—and the list is growing as designers get ever more creative. While they all have some big differences in appearance and function.
1. Rompers
A romper is a one-piece-outfit for babies, with no feet. Typically baggier outer layers, rompers are often sleeveless or overall style at the top, and frequently have very short legs with a long inseam, and look ridiculously cute. Snaps and/or zipper closure at the crotch and legs are often featured to allow for easier diaper changes.
2. Onesies
A baby onesie is a body suit that leaves the legs uncovered and is fastened with snaps at the bottom to conceal a diaper when worn. It is also commonly known as a creeper, or a diaper shirt, and they come in sleeveless, long- and short-sleeve varieties. Onesies are commonly used as inner layers, next to the baby's skin.
3. Footies
Footies, footy PJs or sleepers, also known as stretchies, footies are extended onesies with distinct places for the feet. Footies usually have snaps all the way up the legs in order to facilitate diaper changes.
4. Kimono
Any of the above clothes often now come in 'kimono' style, where the ties, snaps or zips appear on one side, letting parents with babies who don't like having clothes pulled over their heads dress their wriggling bundles of joy a bit more easily.
Factors To Consider When Purchasing Baby Clothes
1. Softness
Just like us, babies like to be comfortable—especially newborns who can sleep up to 18 hours per day. When babies are comfortable, they are happier and they sleep better.
2. Effectiveness
We all know that having a baby with sensitive skin can be worrying. However, that doesn't mean lots of washing with special soaps and shampoos, nor too many lotions and balms. Give the skin a chance to reestablish balance. Stick to natural ingredients and see if wearing the right outfit can help.
3. Durable And Long Lasting
Materials are important! Make sure to check descriptions and labels before purchasing. Follow the washing label and wash it a couple times before wearing. Make sure you feel the same texture after washed.
Best Baby Clothes For Eczema Or Sensitive Skin
Snaps galore make this coverall (called a romper by Edenswear) an easy-on once you have your baby's arms in. Long sleeves and legs, close fitting collar and flat seams in key places make this great for little ones with sensitive skin. Edenswear features Smartcel Sensitive on virtually all their babywear.
According to the manufacturer, Smartcel is an advanced fabric infused with zinc oxide (that doesn't wash out even after dozens of washes!), and will pamper your newborn's skin like no other garment. It is basically Tencel, itself a form of llyocell, which is a wood pulp based textile created and manufactured in Germany, with zinc added to the fabric. This combination is said to have greater natural antibacterial power than cotton, and the added zinc is soothing to the skin. What we can say for sure is that it's beyond soft. Light and stretchy, it feels and wears like silky soft brushed cotton, but without the plastiky feel like satin or other synthetics.
This romper passes the OEKO-TEX Standard 100 certification, which is a certification that tests against over a hundred harmful chemicals commonly found in modern garments.
---
---
Just too cute! This romper with kimono style ties on the sides is another zinc-infused baby garment from Edenswear. The kimono style makes it easier to coax a squirming kid inside, although the ties will take nimble fingers and a little patience. But the results are just so adorable. Snaps close the crotch area, leaving space for little feet to poke out and move around.
Sizes are available up to toddler age, as well, so the cuteness does not end at 12 months! That said, sizes to tend to the small end of the spectrum, so strapping 1 year olds might find it pretty cozy. Once again, Edenswear's favorite Smartcel fabric is used throughout, with zinc soothing for sensitive skin.
---
Edenswear combines all their best features for this sensitive-skin friendly footie. Kimono side-ties, snap legs, enclosed feet, flippable mittens to help control scratching, and of course Edenswear's favorite zinc-added Smartcel wonder fabric. The choice of gentle pastel colors is quite nice although could be broader, but in such a specialized garment perhaps we can't ask too much.
Babies are sure to love the deliriously soft cloth (running out of adjectives here!), although getting them into this footie will take a Zen touch, as the cute-but-tricky kimono ties may be hard to navigate for bigger fingers. Little ones with skin conditions will really benefit once they're in, however, as the flippable mitten hand covers go a long way to reduce scratching and the zinc-infused fabric soothes as it drapes against the skin.
---
Edenswear's take on the ubiquitous baby onesie features long sleeves, quality feeling snaps at the crotch, wide neck for easier ons and offs, and of course Edenswear's favorite Smartcel material which is as soft as always. As a typical next-to-the-skin layer, parents will appreciate the OEKO-TEX Standard 100 certification on the fancy German-made Smartcel fabric.
The fabric's natural antibacterial properties, which the manufacturer claims is even better than cotton, keeps odor and irritation at bay. Advanced fibres do come at a price, putting this onesie in a price bracket above most competitors, but Edenswear has put a lot of care into the quality of the garment and it shows
---
The Wrap-E-Soothe Suit is a specialized garment for babies and kids with sensitive skin. Since the brand targets those with skin conditions in particular, this suit basically has it all. High collar, enclosed hands and feet, flat seams everywhere—even the zipper is backed with a flat to prevent it from rubbing against the skin.
Essentially the Rolls Royce of sensitive-skin-wear, the Wrap-E-Soothe gets good reviews from parents who say that despite the Rolls Royce price tag, it really does do the job. Also made with super soft Tencel, it does not feature zinc like the Edenswear offerings, but it can be worn damp under a dry layer at night to calm itchiness and let your little one sleep. It can also be worn under clothing.
Conclusion
With different brands, designs and textile choices available in the baby clothes market, it is very important to figure out what's best for our little ones. For babies with eczema or sensitive skin, currently there are not many options available out there besides the two brands listed above. Both brands offer similar features that are beneficial for both baby and parents. While each of these products has their strengths, our top recommendation goes to Edenswear's Baby Unisex Zinc-Fiber Footies.
While all Edenswear's products have the same Tencel® fabric, the footies with extra mittens that prevents babies from scratching should be quite effective. The added zinc in Edenswear's fabric also helps to soothe irritated skin without further steps like wet wrapping or ointment. In its role as a newcomer to the market, Edenswear is also very well priced for the quality of their materials and tailoring, which is really top notch.