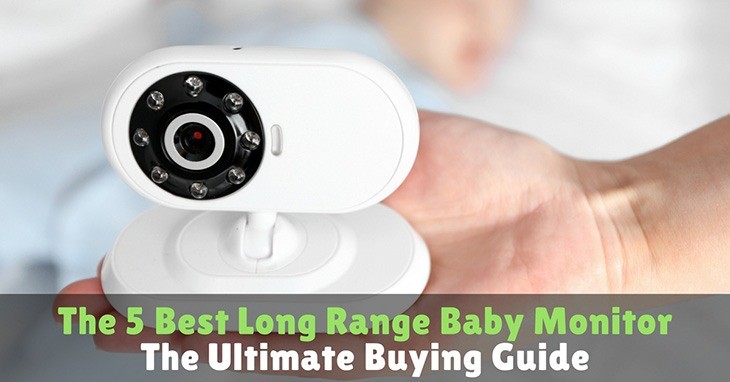 The 5 Best Long Range Baby Monitor: The Ultimate Buying Guide
If you have a baby or you are a parent-to-be, you are probably looking for the best long range baby monitor to lessen your worry every time you leave the nursery room. Although not all parents consider these items as a necessity, it provides a peace of mind knowing your little one is sleeping soundly.
More...
Finding the right one can be difficult as there are many different models available and things you need to consider, such as the range. This task is more complex for first-time parents since it is not clear which features to look for. Older models of baby monitors work well in small apartments or houses. However, if your child's room is on a different floor or if you have a big house, you might need a long-range monitor so you can watch over your little one no matter where you are.
**Below, you'll find more detailed reviews, but you can also click links above to check current prices and read customer's reviews on Amazon.
The 5 Best Long Range Baby Monitor: The Ultimate Buying Guide
Range – Open Field vs. Indoor Range
Most manufacturers display the range of their monitors in the packaging. However, this can be misleading as the stated ranges are performed in an open field. This means that the tests were done without obstructions between the transmitter and receiving unit. A monitor that goes twice as far as another unit in an open field test does not mean it works better indoors.
The range that you should consider is the indoor range or distance between the baby unit and the parent unit with obstructions involved. Walls, appliances, doors, wiring, and furniture will separate the receiving unit from the transmitter. Fortunately, there are baby monitors that can get a clearer signal through long distances and multiple walls than other units.
Type Of Baby Monitor: Sound, Video Or Motion
Parents can feel better or get longer sleep knowing that their monitor will alert them when baby needs attention. Here are the basic types of baby monitor.
Sound Baby Monitor
The first thing that parents need to know is that sound or audio baby monitors like VTech DM221 Safe & Sound Baby Monitor have the best range. If you are searching for the best long range baby monitor, you might want to consider going for sound. Without audio, any kind of visual transmitter will be impractical for sleeping parents. Babies cry if they need a diaper change or when they are hungry, so it is recommended to look for a monitor that offers a high-quality sound.
Video Baby Monitor
When audio is not enough, you may take the additional comfort that comes with seeing what your little one is up to. Video monitors like Hello Baby Wireless Baby Monitor help parents in deciding whether to make a quick trip to check on the baby.
These monitors have built-in microphone and camera that transmit sound and images to the parent unit. These devices also help babies sleep longer as opening the door to nursery room from time to time may wake them up.
Motion Monitor
Motion monitors do not usually transmit movements or sound. This type of monitor has a sensor and is placed under the baby's mattress. It detects when the baby moves as babies tend to move many times during sleep. It gives off an alarm on the parent unit when the baby does not move for 20 seconds and more.
In addition to movements, some motion monitors also transmit sounds so parents can hear baby's crying and breathing. This type of baby monitor is often used with premature babies or those with health issues.
Features
With so many obstructions in your home, it is important to make sure that the transmitter sends clear sounds and images. Here are some important features to consider when looking for the best long range baby monitor.
Best Long Range Baby Monitor
With baby's safety and comfort of parents in mind, we have here a list of the best long range baby monitors.
This sound monitor by VTech features DECT 6.0 that provides clear audio transmission from the baby unit to the parent unit. It also lets parents comfort their babies with its 2-way talk-back intercom.
It has a 5-level sound indicator to visually monitor the level of noise even if the device is muted. With its belt clip, parents can carry their unit anywhere they go and keep their hands free for household chores.
---
This video baby monitor by ANMEATE features a high-resolution display with 2x zoom magnification. It has 2.4" screen that streams live whenever you want to watch your baby.
In addition to temperature monitoring and automatic night light vision, this monitor has two-way talking and long transmission range of up to 960 feet. It allows parents to play four lullabies to comfort babies. The Li-ion battery lasts up to 8 hours in eco mode.
---
This long-range baby monitor audio by Willcare features two-way talking, battery operated parent unit, and baby night light. This monitor uses 2.4GHZ wireless technology to provide stable and secure transmission.
The parent unit also comes with 600mAh rechargeable battery that works up to 20 hours. When the noise in the nursery room is under 40db for more than 20 seconds, it will automatically enable the Smart ECO feature.
---
This video baby monitor by Hello Baby uses 2.4GHZ wireless technology to keep signal stable and prevent dropouts. It covers up to 960 feet without barriers and one parent unit can be paired with up to four baby unit cameras when needed.
This product also features temperature monitoring, screen-off audio-only mode, 8 levels alarm, two-way talk, lullabies, sound activated led indicator and optical pan and tilt.
---
The Video Baby Monitor by HappyHomey uses 2.4GHZ for signal transmission. It features a high-resolution display and 2.0" screen that delivers live streams. It has 8 built-in classic lullabies to soothe your baby at night, automatic night vision to keep an eye on your little one even in darkness.
It has a temperature sensor to help parents create a pleasant sleeping environment for their babies. This product also comes with a two-way audio talk function and alarm.
Conclusion
Before choosing the best long range baby monitor for your needs, carefully examine according to the area of your home. Having the right device allows you to achieve peace of mind and save you from a lot of worries. If you are planning to go for a sound baby monitor, we recommend Willcore Baby Monitor Audio. This device provides secure transmission and comes with many added features, such as talk-back, alarm, night light, and belt clip.
If you want to go for a video baby monitor, we recommend Hello Baby Wireless Video Monitor. This long range baby monitor has two-way function, temperature sensor, 2x digital zoom, long battery life, and built-in lullabies to soothe your baby.
Best Baby Sleep Products: