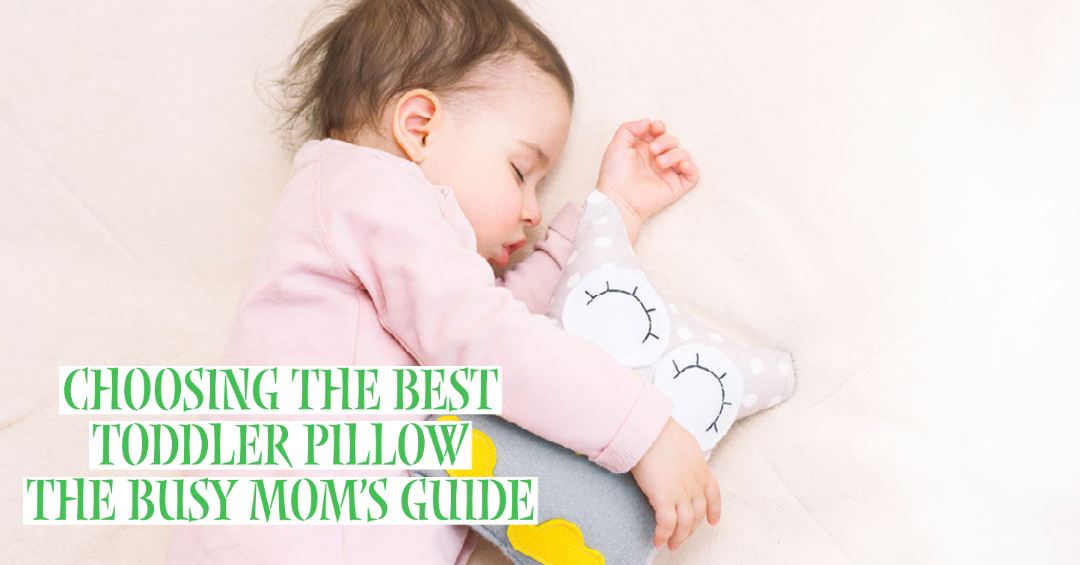 Best Toddler Pillow – The Busy Mom's Guide
It is vital that people of all ages get the soundest sleep possible. As your baby grows, your little one will need a good toddler pillow to stay at ease throughout the night. Also called infant pillows, these baby accessories are designed to provide your little one a comfortable and pleasant slumber. In return, this helps you get sound sleep as well.
| | | | |
| --- | --- | --- | --- |
| | | | |
| | | | |
| | | | |
| | | | |
| | | | |
How To Choose A Pillow For Toddlers?
Choosing the best toddler pillow for your little one can be a tricky task. Here are some things that you need to consider.
1. Consider Your Toddler's Allergies
Before buying a pillow for your child, it is important to know if he or she has allergies. If your child is allergic to certain materials like wool, you should avoid purchasing woolen mattresses and pillows. Knowing what your little one is and is not allergic to can help you make the right decision.
2. Firmness vs. Softness
You would want to get a pillow that is soft yet firm enough. You will need a delicate balance between support and comfort like Little Sleepy Head Toddler Pillow. A pillow is too soft if you press down on it and it does not return to its shape.
On the other hand, if you press hard on it and it does not move, it may be too hard for your child. While most infant pillows are designed to provide maximum comfort and support, it is best to test how firm or how soft the pillow is before making a purchase.
3. Cover Material
The outer cover of most toddler pillows is made from cotton like Toddler Pillow in White & Prints. However, it is important to consider that cotton can be regular or organic. Regular cotton should be avoided as they may be harmful to your toddler's delicate skin. Organic cotton does not contain bleaches, dyes, or other harmful toxins, making it a better choice.
4. Washable Pillow Case
This is another important thing that you should consider when choosing the a kids pillow. Kids love to explore and there is a high chance that they will make the pillow dirty.
It is best to select a pillow with washable outer cover. Some pillows are already machine washable, allowing parents to save time and have more bonding moments with their little ones.
5. Hypoallergenic
Is your child sensitive to dust, dust mites, mold, microbes and more? You can opt for hypoallergenic pillows which are made from materials that can help in reducing allergic reactions. Look for a label that states hypoallergenic.
6. Pillow Fill Material
Before buying a toddler pillow, you can also check the fill material. Most fill materials used are feathers, synthetic fill, memory foam and down. When selecting the right item for your child, make sure that the fill does not create too much noise. Materials like synthetic fills and buckwheat can be loud as it moves. This may disturb your child from his sleep.
7. Satisfaction Guarantee
Toddler pillows available in the market come with a guarantee. Most range between 90 days to 3 years. While the period of guarantee differs from one brand to another, the best toddler pillow comes with the longest satisfaction guarantee. This also shows that the manufacturer provides quality products.
To help parents decide for the best toddler pillow, we have listed 5 products and their corresponding features.
Now that you know what to look for, let's see what we think are some of the best pillows for toddlers on the market today:
1. Celeep Organic Pillow - Editor's Pick
The Celeep organic pillow is not only comfy and fluff, but also educational for your little one. It comes with a gorgeous alphabet printed cover that is made from organic cotton.
The pillow is 13x18 inches and is suitable for newborn, toddlers and even bigger kids who prefer to sleep on a smaller size pillow. The Celeep comes highly recommended by chiropractors who claim it has the perfect balance of filling, size and height to support a healthy spine alignment for your child.
The filling is made from siliconized microfibres that offer adequate support for all ages. You can use it on either site and it fits well in most beds and even co-sleeper cribs.
---
2. Dreamtown Kids - Runner Up
This pillow and pillowcases by Dreamtown Kids are 100% hypoallergenic, mildew resistant and mold resistant. It is also machine-washable, making it easy to care and clean. With a size of 14 x 19 inches, this infant pillow is not too large and not too small.
It also contains dense yet soft fibers that provide neck support and prevents kinks. The family-owned company also offers satisfaction guaranteed or money back.
The Dreamtown is also highly recommended by the American Chiropractors Association, just as the Caleeb pillow above. It is suitable for toddlers and small children as it is thin, but also on the semi-firm side.
You can also wash the pillow in the washing machine. It is easy to care as there are no special instructions for it. You can easily pack it in a travel suitcase as well.
Overall, the Dreamtown kids pillow is bears the highly recommended sign from us!
---
3. Little Sleepy Head - A Good Choice For Most People
The Little Sleepy Head is another little kids pillow on our list. It sits at 13 x 18 x 4 inches and it is small enough to take it traveling with you and your family. It is not too flat and not too fluffy. It is also 100% hypoallergenic and the polyester filling is covered by a 200 thread count cotton fabric.
It has a unique "Love The Fluff" guarantee - you can return it for replacement or money back if you don't fully enjoy using it. Unfortunately, it doesn't come with a pillowcase so you'll have to purchase one separately.
The Little Sleepy Head is suitable for newborns, toddlers and even bigger kids. As the rest of the products above it is machine washable. Overall it is a decent choice for most people, but we can't wholeheartedly recommend it over the Caleeb or the Dreamtown pillows above.
---
4. Little One's Pillow
When looking for the best pillow, it is important to consider the size. This toddler pillow by Little One's Pillow measures 13 x 18 x 4 inches and is designed to be supportive and soft. It is made from finest organic cotton without any chemical treatment, making it healthy and safe for infants.
This durable pillow is also machine-washable, making it easy to care and clean. It also has the right balance of fluffy and thin to keep toddlers comfortable throughout the night.
---
5. Kinder Fluff Travel
The Kinder Fluff is filled with 100% premium synthetic polyester cluster fiber fill. It is covered by 100% high quality cotton with 240 thread count. This machine-washable baby essential is also hypoallergenic, bacteria resistant, dust-mite resistant, lump free and odorless.
With its size of 13 x 18 inches, it is ideal for children ages 2 and above. This pillow is also recommended by chiropractor so toddlers can sleep peacefully throughout the night.
When Should You Give A Toddler Pillow To Your Child?
There are many debates as to when parents should give their babies a pillow. According to experts and many experienced moms, the right time to introduce a pillow to your child is when you move them from crib to a bed. This happens around the age of 18 to 24 month.
Some parents have also reported that they gave toddler pillows to their babies before reaching this age and they did not encounter any problems. As every child behaves and grows differently, there is no universal "right time" to give your baby a good toddler pillow. Based on the development and behavior of your child, it is your decision when to give your little one a pillow.
You can also check for some signs to determine if your baby is ready to use one. Check if your toddler finds it difficult to sleep without due to discomfort or your baby is more comfortable with the head being propped up. This could be the time for your little one to use a pillow. Another way is to check if your child's shoulders are already wider than this head. This usually means that infants are now more comfortable sleeping on a pillow specially designed for toddlers.
If your child is not showing any of the signs mentioned, perhaps they are not ready for an infant pillow.
Final Words
Getting the best toddler pillow for your little one can be tough as there are many options available out there. Before making a purchase, make sure that you consider your child's allergies, pillow fill material, washable pillow case, cover material and guarantee. While all the pillows mentioned above are great, we recommend the Caleeb the most.
Designed with top chiropractors and pediatricians, this pillow is 100% certified organic cotton shell, truly chemical free and unique hypoallergenic poly cluster fiber filling. The company also offers to send a custom pillow with less or more filling, according to the needs of your toddler.
[Read: How To Choose a Baby Sleep Sack? ]