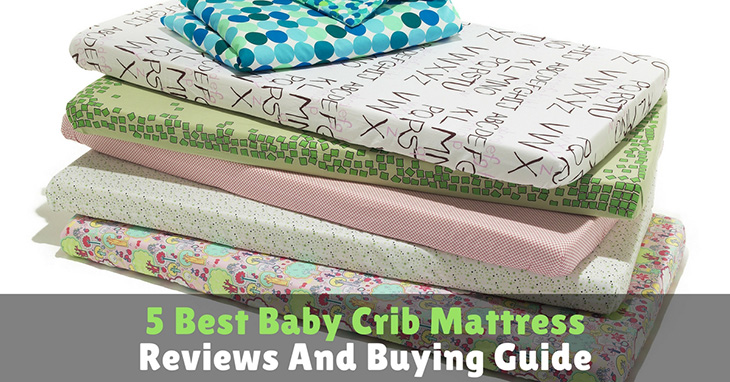 5 Best Baby Crib Mattress – Reviews And Buying Guide
One of the most important purchases that you will make when preparing your nursery is the mattress. Newborns spend about 16 hours a day in their crib. Toddlers aged 3 to 5 sleep for 11 to 13 hours, so comfort and security are among top priorities. Looking for the best baby crib mattress for your little one can be daunting as there are hundreds of products and brands on the market.
To help parents pick the right mattress, we have provided crucial buying guide and shortlisted the top rated items.
More...
**Below, you'll find more detailed reviews, but you can also click links above to check current prices and read customer's reviews on Amazon.
5 Best Baby Crib Mattress
Types Of Crib Mattresses
There are three general types of crib mattress: foam, innerspring, and organic. All types – if they are well-built and good quality – will provide excellent support for newborns and toddlers.
What To Consider When Buying A Crib Mattress
When adults are searching for a mattress to buy, we usually look for one that gives support and comfort that we tend to forget about safety. However, safety is one thing that cannot be overlooked when looking for mattresses for children. Determining which one to purchase is perhaps one of the most crucial decisions when it comes to your baby's health, comfort and safety.
1. Mattress Size
A mattress has to fit perfectly in the crib, with no space between the crib frame and edge of the mattress. Mattresses that are too small may increase the risk of entrapment and suffocation. The size for both cribs and mattresses are standardized by the government. However, not all mattresses will fit snugly in every crib due to slight variations.
The proposed size by the government is 27 5/8" to 28 5/8" of width and 51 ¾" to 53" in length. The minimum size is 27 ¼" x 51 5/8". Make sure that the bedding is not thicker than six inches.
2. Firmness
The best baby crib mattress is firm, flat and resilient. It may feel very stiff to parents, but babies will easily adjust to it. According to Consumer Reports, when you press on the mattress, it should snap back and not follow the shape of your hand. The bedding should not conform to the shape of your baby's head and has to be resilient enough to regain its shape fast. If the surface is too soft, it causes your child to sink slightly, making it harder for them to adjust their position.
3. Density
Mattresses with high density provide enough firmness to keep babies safe while sleeping. Most manufacturers do not include density on the packaging, but you can always check the weight to determine the thickness of the item. Compare the weight of different foam models to assess foam density. You can also perform a density test by placing your hand on each side in the middle and press your hands together. It should not allow you to squeeze far.
For innerspring mattresses, it is important to check the gauge of wire. Lower gauge has thicker wire, which means it is firmer and stronger. Opt for a mattress with 135 to 150 coils and a 15.5 or lower gauge.
4. Insulator Pad
The quality of the insulator pad on top of the steel coils in innerspring mattresses is very important as it prevents the coils from poking through. A cheap insulator may feel comfortable but may not hold up in the long run. A good-quality insulator pad contains coir fibers, which are made up of shredded coconut shells. Some mattresses have fiber-wrap pads or rag pads which are made from cloth scraps. Avoid low-quality insulator pads that are composed of woven polyester as these are less durable.
Best Baby Crib Mattress
To help parents get the right item for their little one, we have here a list of the top rated mattresses.
The Wovenaire Crib Mattress by Newton has a breathable design to reduce overheating and the risk of suffocation. This mattress is made of food grade polymer, and the 3-D cloud cover is made of 100% polyester. With dimensions of 52" x 28" x 5.5", it fits in standard sized cribs. It does not contain latex, foam, adhesives or allergens. It also has completely washable material to prevent bacteria growth.
---
The Milliard Crib Mattress uses a unique blend of foam that creates the right combination of safety and comfort for babies and toddlers. It has waterproof encasement on the sides and top, but allows air and heat to ventilate underneath. With dimensions of 52" x 27.5" x 5.5" that fits a standard sized crib and a density of 28D, this mattress won't allow babies to sink it. The encasement backside is composed of anti-flame materials and it is certified to be safe and chemical free.
---
This crib mattress by Dream On Me has heat tempered coils that provide a firm foundation and excellent support. It has dimensions of 52" x 27" x 6" and offers two hypo-allergenic layers that offer comfort for babies and toddlers.
Instead of small metal vents, it uses airflow pocket to keep the mattress fresh. The lock stitch binding is also antibacterial, which helps prevent mildew, mold, and odor from seeping inside.
---
The Soybean Foam-Core Crib Mattress by Sealy uses a percentage of natural and renewable soybeans to create firm and comfortable foam for newborns and toddlers.
The foam used is CertiPur-US certified, made without lead, phthalates, formaldehyde, mercury, TCEP flame retardants or TDCPP that may be a concern in other non-certified foams. With dimensions of 52" x 28" x 5", it has waterproof surface and binding to prevent liquids from seeping inside.
---
This baby mattress has dimensions of 51-5/8" x 27-1/4" x 5" and fits standard sized cribs. It is made of premium CertiPUR-US certified flexible polyurethane foam. The removable cover is soft, waterproof and machine washable to help prevent bacterial and mold growth.
This hypoallergenic mattress is antimicrobial, mite-proof, lead and phthalate free. This high-density foam mattress also meets and exceeds federal flammability and CPSC standards.
Conclusion
When looking for a mattress for your baby, it is important to make sure that it fits perfectly in the crib or space between the edge of the mattress and crib is no more than two fingers. Use a firm, flat surface to reduce the risk of suffocation. The best baby crib mattress should snap back after pressing on it in the center and around the edges.
While all the mattresses mentioned above provide great features, we recommend Dream On Me Spring Crib and Toddler Mattress. It has full perimeter border wires that keep the corners, sides, and edges firm and maintain its shape for additional safety. This particular mattress has air-flow systems, hypoallergenic, insulation, and waterproofing components. It also comes with laminated waterproof covers that are stain-resistant.