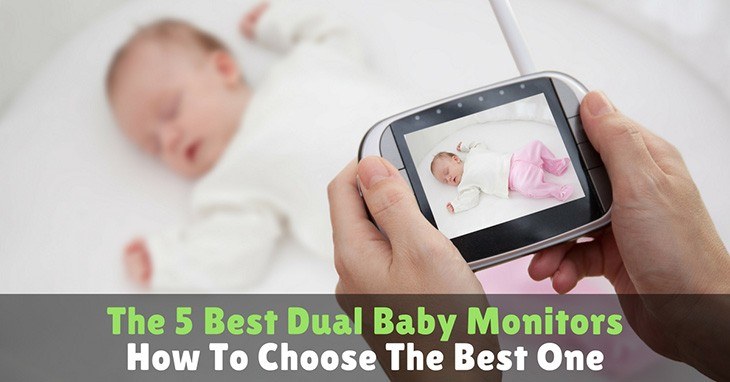 The 5 Best Dual Baby Monitors: How To Choose The Best One
Most parents enjoy the alone time where they can get a peaceful nap. However, this comes with the constant worry of the safety of your child particularly when they are very young.
The best dual baby monitor makes it easy for you to check on your baby's activities. They make it quite easy for you to be up to date with your child's behavior.
More...
There is a wide variety of options for dual baby monitors to choose from out there, making it difficult to choose the right one. You should be capable of choosing the best after reading our review below.
**Below, you'll find more detailed reviews, but you can also click links above to check current prices and read customer's reviews on Amazon.
The 5 Best Dual Baby Monitors
What To Look For When Buying the Best Dual Baby Monitor
With a large variety of dual baby monitors to choose from, it is important to know the features you require. Having the knowledge of the features of a dual baby monitor gives you an upper hand when shopping for one.
The best dual baby monitor meets all your needs with their features, giving you a peace of mind. Consider the following important factors before you buy a dual baby monitor.
Type Of Device
Do you prefer a camera or audio monitor? Dual baby monitors come in three different models. These are video, Wi-Fi, and audio models. The audio baby monitor has fewer features but is quite cheap.
On the other hand, the Wi-Fi and video baby monitors come with a range of features that make them quite expensive.
Is It Digital Or Analog?
Analog baby monitors use radio waves to operate. They are therefore vulnerable to interference from other walkie-talkie signals. Therefore, anyone can listen to you and your child.
In contrast, digital monitors are much safe since there is no interference with the frequencies. However, they are more expensive and offer the best video and sound quality.
Range Of The Baby Monitor
One of the most important features to consider in a baby monitor is its range. The best dual baby monitor should have a long range. This makes it quite easy for you to move around the house without having to worry about losing your signal.
It is important to ensure that your house does not have thick walls as they interfere with signals. Latest models of baby monitor pair with a mobile app making it possible to view your child on your phone.
Does It have Night Vision Capability?
It is vital to note that the quality of videos deteriorates at night due to poor lighting or darkness. You may want to make sure your child rests comfortably at night; therefore, getting a baby monitor with night-vision capability is necessary.
Video baby monitors should have the highest quality of night vision to allow you to see your child at night. Getting one with an automatic night-vision is an added advantage especially when you forget to turn it on.
How Long Does Its Battery Last?
Just like your phone, you do not want your baby monitor to be on low battery or worse turn off. The baby monitor should come with indicators (an alarm or light) that show when the battery is low.
A baby monitor with a long battery life does not keep you on a leash to an electrical outlet to maintain the connection. Other baby monitors come with a battery saving feature that turns the display off in case of inactivity.
Number Of Receivers
A baby monitor with multiple numbers of receivers makes it possible to monitor your baby with someone else. A Wi-Fi model is appropriate if you this is a necessary feature for you.
It makes it possible to keep track of your child through a mobile app on your phone. Wi-Fi receivers do not require multiple receivers/parent units like old video models.
Indicators For Temperature And Sound
It is difficult to get babies to sleep and you do not want to repeat that process when they wake up because of lack of comfort or noise.
The latest baby models come with sound and temperature indicators that show your baby's room temperature and the level of sounds they can hear from their crib.
Display Modes
Split-screen display mode makes it possible to keep track of activities in two different rooms or from different camera angles.
The best baby monitors come with a sound activated split-screen mode that only shows the important feed. They also come with a large display, usually larger than 3 inches that fit a split-screen.
Zoom, Pan And Tilt Features
These features are necessary particularly if you want to take a closer look on your child as they sleep. You can focus your video feed to a relevant activity instead of the nurseries walls.
The Benefits Of A Dual Baby Monitor
Dual baby monitors offer convenience, peace of mind, and security as you keep track of your baby's activities. They may be quite expensive, particularly models that come with video or Wi-Fi, but they provide improved functions and features.
Some of the benefits of having the best dual baby monitor include:
The 5 Best Dual Baby Monitors
This is one of the most sought after dual baby monitors. It incorporates the latest technology of interchangeable lenses that are quite common on phones. You can choose the best angle of view with the three different lenses that come with the Infant Optics DXR-8 monitor.
You can conveniently keep abreast with your child's movements through a 3.5" LCD color screen. It is secure and possible to use over a wireless transmission. It additionally has a long battery life.
---
The VTech DM221-2 is an audio model of the dual baby monitors that transmits every single sound your child makes. You can, therefore, enjoy the peace and quiet of your own home with this digital transmitter.
You do not have to worry about the interference of its frequency from other wireless devices. It has two parent units with a range of about 1000 feet that enables you to move freely around the house. You can also remotely talk to your baby through the baby unit with the talk back feature.
---
The Motorola MBP855 comes with a 5" inch video baby monitor that is portable and Wi-Fi connected. There are two additional cameras and a parent unit. The Wi-Fi functionality additionally enables you to connect it to your smartphone through the Hubble app.
The range on this dual baby monitor is 1000 feet making it possible for you to move around the house while keeping an eye on your baby. In addition, you can mount your camera with the StarGrip for Motorola Monitors.
---
This wireless video monitor comes with a digital night vision camera and two-way talk system that helps you to monitor your baby securely. The ANMEATE wireless monitor includes a 2.4" LCD screen that provides a high-resolution video of your child. It has a plug and plays feature that makes it simple to install.
Additionally, it has a wide range of operation of up to 960 feet and multifunction that enable you to play lullabies. It includes eight infrared LED lights and temperature monitoring.
---
This is a wireless video baby monitor that operates on a frequency of 2.4 GHz on a 2.4" LCD color display screen on the parent unit. Two cameras with infrared night vision capabilities make it possible to monitor different rooms on the parent monitor.
You can talk and sing to your child with the two-way communication feature on this baby monitor. The highly sensitive microphone makes it possible to detect even the slightest noises. With these functionalities, you can easily watch your children's activities.
Conclusion
A dual baby monitor is a good option for an individual with a child on the way or one with a growing family. The choice is yours on which model you prefer, either video, audio or Wi-Fi. Each dual baby monitor has its own merits and demerits. The VTech DM221-2 is the best audio model with its long range of operation, digital transmission, and multiple receivers.
On the other hand, the Motorola MBP855CONNECT-2 is a Wi-Fi dual baby monitor that is compatible with your smartphone and tab through the Hubble app. Its portability makes it suitable for you to move around while keeping track of your baby's movements.
However, the best dual baby monitor is the Infant Optics DRX-8. This video baby monitor provides different viewing angles with its interchangeable lens technology. Its advanced functionalities are what make it very popular.
---