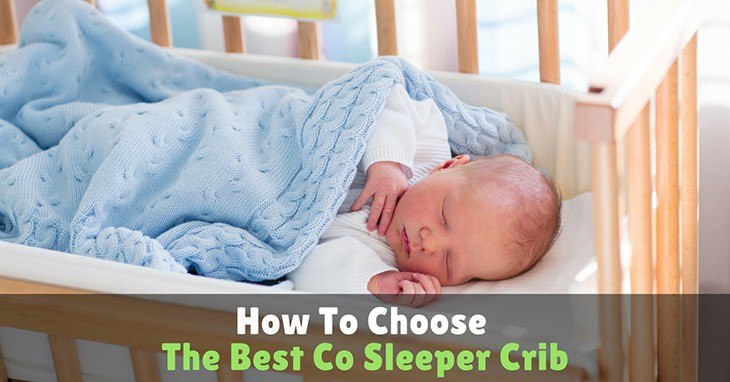 Best Co Sleeper Crib – The Busy Mom's Guide
It is vital for both mom and baby to achieve a peaceful sleep. However, most parents have sleepless nights as they have to get up and enter the nursery room to check or comfort their crying baby. This may occur every hour or two until the sun rises. One way to keep your little one close, safe and calm is to have the best co sleeper crib for your child.
Safe sleep recommendations remind parents to keep their babies in the same room from birth until they reach their first year to reduce the risk of SIDS. Nevertheless, it is not advised to let baby snuggle in the same bed as parents as it may lead to suffocation or falling off. A co-sleeper allows you to put your child to sleep close to you at night without compromising her safety.
Check out some of the best models below:
| | | | |
| --- | --- | --- | --- |
| | | | |
| | 2. RONBEI Bedside Sleeper | | |
| | 3. Milliard Bedside Bassinet | | |
| | 4. AngelBliss Baby Bassinet | | |
| | 5. Mika Micky Bedside Sleeper | | |
Why Should Parents Get A Co-Sleeper Crib For Their Babies?
Co-sleeping is when parents keep their newborns close while sleeping. Such proximity allows you to monitor your child, making it faster to breastfeed or respond to any circumstances. Bed sharing, however, is a provocative issue as it increases the risk of SIDS by making breathing difficult.


Co-sleeper cribs are bed spaces designed to provide babies a comfortable and safe environment to sleep. It gives all the advantages of co-sleeping plus additional safety and independent place for your baby. Other types of co-sleepers are:
Nothing compares to the feeling of security knowing that your child is within your reach. Here are some reasons why parents should get a co-sleeper crib for their babies.
1. It Promotes More Sleep For You And Your Baby.
Sleeping side by side comforts both parent and child. Moms can rest peacefully, knowing that they can easily hear their babies and attend their needs fast. Having constant access to your baby reduces the worry of child's safety and lets you sleep better.
Having a co-sleeper also gets rid of the need to wake up and walk to the nursery room. When your little one stirs at night, you can quickly soothe her to sleep before she completely wakes up.
2. It Creates A Safe Environment For Your Little One.
During the first few months, the mother's presence when the baby sleeps is the best security against SIDS. The closeness of a parent may also reduce the anxiety of infant, which could help her relax and sleep.
Having the a good crib for your newborn can help him feel safe. It can also avert suffocation and any risks such as Sudden Infant Death Syndrome.
3. Your Sleep Becomes In Sync With Your Baby.
Co-sleeping makes the mother's sleep cycle in sync with her child. According to Dr. James J. McKenna, Director of the Mother-Baby Behavioral Sleep Laboratory, when mothers and infants sleep together, their sleep cycle becomes in sync. This means you and your little one can slumber and wake up at the same time.
4. It Makes Night Feedings Easy.
A bedside crib can help parents comfort their crying babies easily and also makes night feeding faster as your little one is within your arm's reach. Using a co-sleeper crib improves attachment parenting while facilitating nursing sessions. Whether bottle feeding or breast feeding, you can both stay in slumbering state. This makes it is easier to go back to sleep.
Breastfeeding at night also allows you to maintain milk supply, which is important to ensure that your baby is getting enough nutrients from breast milk.
How To Choose A Co Sleeper Crib?
Before buying the best co sleeper crib for your little one, here are some features to consider.
1. BABYBJORN Cradle
Care for your baby's delicate skin: With a BABYBJÖRN Cradle you can keep them close by, cradle them in a safe and comfortable place, and rock them back to sleep.
The Babybjorn is a JPMA certified and it comes in one size - 31x23x26 Inches. It is suitable from birth to around six months of age.
The sides are breathable and there are no loose parts in the design. That way your baby won't tangle their feet or tiny arms anywhere.
The fabric is 100% polyester, while the legs are made from steel and natural wood.
---
2. RONBEI Bedside Sleeper
The Ronbei Side Sleeping Crib is suitable for newborns to 6 months or until babies can pull themselves into an upright position. In addition to ease of assembly and attachment, it comes with removable and washable lining to make parents tasks easier. Light and easy to carry, this item also comes with a travel bag so you can easily transport the crib wherever you go.
---
3. Milliard Bedside Bassinet
The Millard Bedside Bassinet is one of the few cribs on this list proudly made in the USA. The current models is suitable for beds between 23" to 31" high and it is even suitable for divan beds.
It measures 43.46 x 24.02 x 5.51 inches and it is suitable for newborns all the way to around 6 months of age or 20lbs of weight.
The mesh is breathable and it features four easy to use pockets. You can store diapers, baby oils and other small items in them. The installation doesn't require any tools or special skills and it works on nearly any bed type out there.
There are two versions on the Milliard - one with mesh sides only on the side and another with mesh walls all around. Both are good, but maybe mesh all around is just a tad safer for newborns.
---
4. AngelBliss Baby Bassinet
The Bedside Crib and Mattress by SnuzPod can be used as a bedside crib, standalone crib or Moses Basket/Bassinet. It features Zip-SafeTM Mesh Wall for a safe sleep area and easy access, rocking stand and height adjustable settings (37 to 58 cm). Attaches securely to parents' bed and suitable from 0-6 months, this crib also comes with a mattress.
---
5. Mika Micky Bedside Sleeper
The Mika Micky bedside sleeper is last on our list, but definitely not least. It features seven height positions to fit beds from 18" to 26". You can attach it with two straps to a frame of your choosing for a safer mounting.
The Mika Micky has the two long sides made out of breathable mesh fabric, while the short sides are from a sturdy fabric. It has a side pocket for diapers and other small baby accessories.
The base is very sturdy - made of metal and sitting on plastic wheels with brakes for easy movement. It conveniently opens on one side so you can move your little bundle of joy easily in and out of the basinet.
Final Words
For the first few months, it is important for babies to sleep in the same room as parents. Keeping your baby safe and comfortable is the most important consideration when buying the best co sleeper crib. Co-sleeping offers numerous benefits for both parents and newborns. It allows you to attend your little one's needs easier and faster without having to stand up and walk to the nursery room.