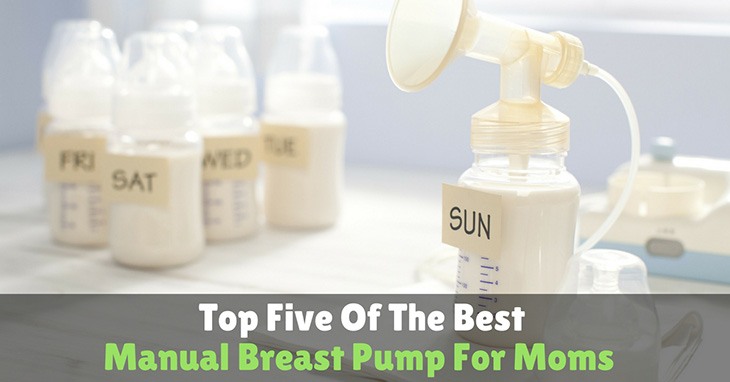 Top Five Of The Best Manual Breast Pump For Moms
If you are planning on exclusively breastfeeding your baby, it is likely that you will need a breast pump. The best manual breast pump can make a difference in the actual breastfeeding experience. In fact, it can help nursing mothers avoid a stressful breastfeeding experience and have a robust supply of breast milk.
Since this device can make or break your breastfeeding experience, it is worth thorough consideration. However, figuring out which manual breast pump is best for your need can be quite confusing, as there are several makes and models of a breast pump.
More...
**Below, you'll find more detailed reviews, but you can also click links above to check current prices and read customer's reviews on Amazon.
Top Five Of The Best Manual Breast Pump For Moms
Should You Use A Breast Pump?
Whether you are exclusively breastfeeding your baby or supplementing formula milk from time to time, it is highly likely that you can benefit from using a breast pump for one purpose or another.
The need to use a breast pump will depend on your lifestyle, milk supply, and your baby's appetite. Whether you are working or staying full time at home will also matter.
Here are some of the reasons why most nursing mothers use a breast pump.
Breast pumps can feel like lifesavers whenever the mother's breast starts to become engorged with breast milk. Some women have more than enough milk supply that their baby is not able to relieve them of their milk load.
With the use of a pump, the volume of the breast milk in the breast is significantly reduced to the point that nursing mothers will find relief.
2. Extra Stimulation For Milk Production
Pumps can also play a major role when it comes to stimulating milk production when the mother has a low supply of breast milk. This is all part of the demand and supply loop.
If you pump 10 minutes after the baby latches, your breast will receive extra stimulation that can create a healthy milk supply over time.
3. Challenging Latching Time
There are times when nursing mothers find it difficult to latch their baby for breastfeeding. During such time, the baby will have difficulty sucking and feeding properly.
The reasons for such difficulty may include inverted nipples or a sick or developmentally delayed baby.
When you are faced with a challenging latching time with your child, you can use a breast pump and feed your baby expressed breast milk.
4. Working Mothers
Nursing mothers who are due to return to work need a breast pump so their babies can still feed on expressed breast milk even when they are at work.
Breast pumps may be used while they are at the office so they can have sufficient supply of breast milk that they can feed their baby. Breast milk is the most nutritious option for your child and you need the best manual breast pump and dedication to keep this going.
Before you go back to work, it is important to stock frozen breast milk. The number of bottles you need to store will depend on the mother's milk production and her working hours.
If there is more than enough milk supply, then you can start at a later date. However, if supply is a challenge, it is best to start the storage process earlier.
5. Full-Time Mothers
Even full-time mothers can also benefit from using a breast pump. Some of the reasons for this include engorgement, low milk supply, and difficulty in latching.
Being a parent can be overwhelming, and breastfeeding requires additional hard work and dedication. Every mother needs and deserves some time away to unwind, run an errand, exercise, relax, and go on precious date night.
With expressed breast milk, other members of the family get to bond with the baby during feeding time while the mother takes the time to rest.
Factors To Consider In Choosing The Best Breast Pump
One of the main factors to consider in selecting a breast pump would be the type of breast pump. Since there are several brands as well as styles of breast pumps in the market, it can be hard to decide which pump is the best for you.
When it comes to the types of breast pumps, there are two main categories – manual and electric.
Manual Breast Pumps
Manual breast pumps are hand operated devices that pump one breast at a time. This type of breast pump is typically designed with a flange and a manual lever that creates suction to extract the milk from the breast.
Unlike electric breast pumps, they are more affordable, small, lightweight and portable. The best manual breast pump should be able to express a decent amount of milk, which is comparable to an electric breast pump. The process, however, is a little more time consuming and labor intensive.
Electric Breast Pumps
An electric pump is designed with a motor and is powered by electricity through a battery or an outlet. Most electric pumps have various options including a car adapter, AC adapter, battery pack or a rechargeable battery.
You can also find single and double versions of electric breast pumps. Single pumps pump one breast a time while double pumps pump both breasts simultaneously.
If you pump more than three times a week, a double breast pump is a great option. Working mothers can also benefit from this type of breast pump, as they are more efficient compared to the single pumps.
Other Important Features To Consider
Aside from the kind of breast pump, there are also other key features in a pump that you need to consider before making a purchase.
Well-Fitting Flange

. The flanges are those plastic pieces that are placed over the breast during pumping. The suction of the pump will pull the nipples into the flange. It is important that the flange fits properly.

Dual Phase Expression

. A pump with two phases is essential as each phase mirrors what happens during nursing. The first phase involves stimulation that produces let down and the second phase involves the expression of the milk.
Accessories. Some pumps already come with extra accessories like the breast pump bag, milk storage system, insulated cooler and freezing packs, milk storage bottles, and power supply.
Top Five Manual Breast Pump In The Market
If you are planning to pump breast milk once in a while, you will need a manual pump just like the Medela Harmony manual breast pump.
This pump can produce more breast milk in less time with its two-phase technology that mimics natural breastfeeding process with a baby.
This breast pump is lightweight, portable and discreet. All parts of the pump are BPA-free.
---
This manual breast pump from Philips Avent has a unique design for a more comfortable and relaxing pumping experience for mothers.
With this breast pump, you can sit properly and comfortably as you pump and regularly milk flow continues from the breast to the bottle. It also comes with a soft massage cushion which helps stimulate milk flow.
With its ergonomic handle as well as compact design, you can easily operate this pump using one hand.
---
This breast pump can truly change your life. This pump is eco-friendly, safe and simple to use. It even fits right into your baby bag, which you can bring with you wherever you go.
This pump is soft and comfortable to use. Also, this pump is also easy to clean and made from PVC, BPA, and phthalate-free materials.
---
With the Micro Cube manual breast pump, you can easily pump milk on one breast and latch your baby on the other without having to worry about milk stains.
It is quiet and easy to operate, allowing a gentler and more pleasurable pumping experience. It is also designed to be compact and lightweight which makes a great pump to bring anywhere.
---
This manual breast pump from Lansinoh is designed to produce two modes to express more milk in less time. With its ergonomic design on the both the handle and the actual pump, you can ensure a more comfortable experience for the mother.
This pump is also compact, lightweight and portable. Not just that, it comes with comfort fit flanges for optimum fit and ideal suction.
Conclusion
The clear winner of this review roundup is the Medela Harmony Manual Breast Pump. This pump can produce more breast milk in less time with its two-phase technology
Your baby can have the best nutrition you can give, as you now continuously pump expressed breast milk at home, while in the office or even while you are traveling. The Medela Harmony Manual Breast Pump is truly one of the best manual breast pumps on the market
Recommended Articles:​