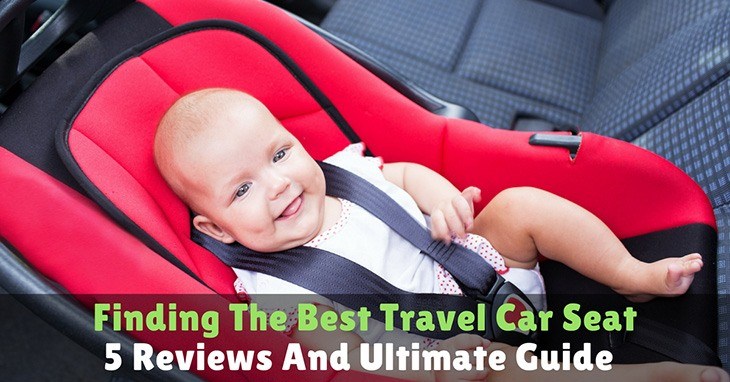 Finding The Best Travel Car Seat: 5 Reviews And Ultimate Guide
Whether you are planning to take the family on a road trip or going home to spend the holidays, it is important to provide your little one with the best travel car seat. With all the baby essentials and items needed for the journey, a travel car seat allows parents to move their baby around effortlessly.
More...
**Below, you'll find more detailed reviews, but you can also click links above to check current prices and read customer's reviews on Amazon.
Finding The Best Travel Car Seat
Why Purchase A Travel Car Seat?
Before the due date of the mother, it is recommended to install a baby car seat to ensure the safety of the new-born. The quality of the best travel car seat should also be considered to give high level of security to the small child.
Car seats are usually designed for infants weighing less than twenty pounds, helping them sleep peacefully and comfortably. When your baby is more than 20 pounds, parents would need to install a convertible seat that can accommodate 40 to 80 pounds.
To prevent injury in case of a sudden swerve, stop, or crash, seat belts and car seats hold the strongest areas of the bodies and protect the spinal cord and the brain. All people in the vehicle need to be restrained properly to reduce the risks of injuries.
However, most child seats are installed the wrong way and may leave a toddler defenseless in a crash. In addition to getting the best travel car seat, it is essential to install the seat correctly.
Types Of Travel Car Seat
Parents would need to change from one travel car seat to another as the child grows.
Infant Car Seat – This is the first seat that has to be installed for infants. It comes with a detachable carrier that links to a base installed in the vehicle. Depending on the model, these seats are used for babies from 4 to 40 pounds. A child is too tall for this seat if the crown of the head is less than an inch from the top of the shell.
Convertible Seat – The next travel car seat for growing infants is the convertible seat, which must be installed before the infant's first birthday. Like Maxi-Cosi Pria 70 Convertible Car Seat, it comes with a higher rear-facing weight limit and a harness system similar to infant car seats. Depending on the model, these seats can be used for infants 40 to 50 pounds.
Booster Seat – A booster seat raises a child up so he or she can use the seat belt properly. It may come in backless or high-back versions.
Toddler Booster – This type of travel car seat is designed for toddlers who are at the appropriate age, height, and weight to sit facing forward. It comes with a removable harness and is less expensive compared to convertible seats. Toddler booster accommodates children from 20 to 90 pounds harnessed. Booster mode accommodates 30 to 120 pounds.
All-in-One Car Seats – These car seats, like Diono Radian RXT All-In-One Convertible Seat, are money-saver. Depending on the model, this seat can accommodate kids from 5 to 45 pounds facing the rear and 20 to 65 pounds in a harness facing forward. The booster mode can accommodate kids from 30 to 120 pounds.
5 Tips For Choosing The Best Travel Car Seat
A travel car seat is one of the most important things that you will get for your baby. To help parents search for the right one, here are the useful tips that will help you in choosing the best travel car seat.
1. Read The Vehicle Owner's Manual
Before purchasing a car seat, parents need to measure the back seat to select the right base of the car seat. For better buying experience, it is best to check the vehicle's manual to know exactly where the travel car seat should be located. For small cars, parents may have to choose a seat with a narrower base to fit properly. It is also important to consider the occupants in the back seat and how many children will be there.
2. Choose The Correct Seat
Select the car seat for your child's height, weight, and age. Rear-facing seats are recommended for infants and newborns, considering the height of the child. Children who are at least two years old or have reached the weight capacity and maximum height of the car are recommended to use forward-facing seats.
3. Reachable Harness Adjusters
Accessible harness adjusters are also important so parents can reach them easily. As the infant grows, parents will continually adjust the harness to make sure that the straps are placed properly. Inaccessible adjusters may also make the car seat less operative when it comes to sudden stop, swerve, or crash.
4. Two-Piece Retainer Clips And Secure Seat Belt
Travel car seats with two-piece retainer clips make it hard for children to unfasten. Bored children may unbuckle their harness or belts to get their parents attention. Without clips may let toddlers try to get out of the seat.
The belt path should also be considered and has to be fastened properly. Like Evenflo Tribute LX Convertible Car Seat, there should not be more than one inch of side-to-side movement.
5. Tight Tether And Recline Indicator
Tether strap keeps the shell of the seat secure and reduces the risk of head injuries. Most car seats also come with a recline indicator for rear-facing seats to let parents determine the proper angle. This prevents the infant's head from falling forward.
5 Best Travel Car Seat
To help parents decide for the right travel car seat, we have made a detailed research and listed the five best travel car seats and their features.
This travel car seat by Evenflo is designed and tested for structural integrity, including the side impact. Meeting or exceeding applicable federal safety standards, it comes with a multiple shoulder harness positions that can be used for a long period of time.
Used for children weighing 5 to 40 pounds, the buckle and upfront harness are easy to use so parents can adjust the straps easily. To give comfort to the child, it also comes with an integrated body cushion and removable head pillow.
Evenflo Tribute Convertible Car Seat meets the test standards and federal safety standards, including the side impact test.
The upfront 5-point harness can be easily adjusted so parents can take the infant in and out effortlessly.
It comes with 4 harness positions to accommodate the growing infant for a long period of time.
This car seat has 2 crotch buckle positions and the seat reclines for rear-facing use.
A removable head pillow is included to provide the child additional support and comfort.
The pad can be removed easily and is machine-washable, which is convenient for parents.
The convertible car seat may be too narrow for growing infants.
The seat belt is thin and may fold over. The straps are difficult to tighten or loosen.
---
For parents who are looking for car seats that can grow with their child, Radian RXT All-In-One Convertible Car Seat might be the right one for your little one.
This travel car seat accommodates 5 to 45 pounds in rear-facing mode, 20 to 65 pounds in a forward-facing mode, and up to 120 pounds in booster mode. FAA certified, it folds flat for travel and fits 3 across in most mid-sized vehicles. This product also surpasses the Federal crash test standards.
The All-One-One design of Radian Car Seat by Diono accommodates children from 5 to 120 pounds.
It comes with an adjustable head support that provides 12 height settings. This ensures that the seat fits properly.
This travel car seat comes with safety features to protect the child from injuries. It has energy absorbing EPS foam that offer side impact protection. The Safe Stop energy absorbing harness provides bungee-like energy absorption.
With its slip profile, it can fit three across in most mid-sized vehicles.
Its SuperLatch system makes the installation strong, secure, and easy. The sides are reinforced with steel alloy frame and aluminum.
This seat provides memory foam and support cushions for additional comfort.
This car seat is heavy and may be difficult to carry and set up.
---
4ever All-in-One Car Seat by Graco comes with Simply Safe Adjust Harness System that ensures the security of the child. The 10-position headrest allows this seat to grow with your child and it can be adjusted easily with one hand.
Its rear-facing mode accommodates 4 to 40 pounds and the forward-facing mode is for children from 20 to 65 pounds. The booster seat mode in high back belt-position accommodates kids from 30 to 100 pounds while the backless belt-positioning mode is for kids with 40 to 120 pounds.
This 4-in-1 convertible car seat accommodates 4 to 120 pounds (infant to booster seat), giving almost 10 years of use.
It provides 6 recline positions and 10-position headrest. The level indicator helps parents determine the right position for optimum safety.
The washable seat cover can be removed easily without having to remove the harness.
Side impact tested and engineered & crash tested, its steel-reinforced frame gives durability and strength.
This easy-to-install car seat comes with an Inright Latch system allows parents to remove the attachment effortlessly.
The cup holders are too far to reach and may not be necessary for infants.
---
This travel car seat by Safety 1st comes with three modes of use. The rear-facing mode for infants from 5 to 35 pounds, forward-facing mode from 22 to 50 pounds and the booster mode is for children from 40 to 100 pounds.
It has side impact protection, removable head support, rotating arm rests and detachable cup holder. The 5-point harness with QuickFit Harness System allows parents to easily adjust the height, which is useful as the child grows.
This travel car seat by Safety 1st provides three modes of use: rear-facing seat from 5 to 35 pounds, forward-facing mode from 22 to 50 pounds, and booster mode from 40 to 100 pounds.
It features side impact protection, EPP energy absorbing foam, and removable infant head support.
The 3-position recline can be easily adjusted with one hand, giving the child the accurate position and comfort while riding in the vehicle.
Alpha Omega Elite comes with a detachable cup holder. It also includes a rotating arm rests that make it easier for the child to get in and out.
This 3-in-1 seat provides a QuickFit headrest that can be adjusted without removing the harness.
This car seat is bulky and may take up one and a half seats.
---
This convertible car seat by Maxi-Cosi is made of easy-to-clean and self-wicking fabrics that keep the child dry and comfortable. It has a TinyFit system that gives babies from 4 to 22 pounds a perfect fit.
Pria 70 fits with Air Protect side impact protection to secure the child's head. This seat fits children rear-facing from 9 to 40 pounds and forward facing for children up to 70 pounds. Designed to fit better in the vehicle, this car seat allows more space for other passengers.
Pria 70 gives the perfect fit for a comfortable and secure ride. It accommodates babies from 9 to 40 pounds rear-facing and children from 22 to 70 pounds in forward-facing. Both modes benefit from the side impact protection.
The Air Protect side impact protection and advanced air cushion system ensures the safety of the child's head.• The harness and headrest can be adjusted easily with one hand.
This seat offers 3 recline positions for accurate angle and relaxation. A cup holder is also included.
The self-wicking and easy-to-clean fabrics keep the child comfortable and dry. It is also machine washable.
The straps are thin and may tangle.
This car seat is difficult to install.
Conclusion
Looking for the best travel car seat for your child is an important task for every parent. Traveling with a baby requires a reliable seat to ensure the safety of your little one. While all the seats we mentioned provide excellent features, we recommend Graco 4ever All-in-One Convertible Car Seat.
This particular seat gives up to ten years of use, including rear-facing seat from infants from 4 to 40 pounds, forward-facing toddler seat from 20 to 65 pounds, and booster seats from 30 to 100 pounds. This side-impact tested car seat comes with 10-position headrest, level indicator, 6 recline positions and built-in 5-point harness system.