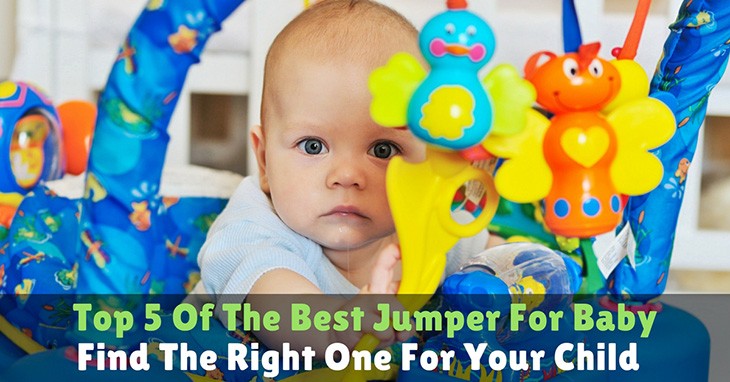 Top 5 Of The Best Jumper For Baby: Find The Right One For Your Child
There are various baby gears that you may find useful during your baby's first few years of life. One of this essential baby gears is the baby jumper.
For years, a lot of parents have relied on baby jumpers to not only entertain their little ones but also to promote physical activity. Since jumpers come in various makes and models, it is essential to take some in choosing and make sure that you are purchasing the best one for your child.
If you want to find the best jumper for baby, there are several things that you need to consider. Moreover, you may also find it overwhelming to choose the right jumper for your baby as there are various makes and models of baby jumpers in the market.
More...
**Below, you'll find more detailed reviews, but you can also click links above to check current prices and read customer's reviews on Amazon.
Top 5 Of The Best Jumper For Baby
Jumpers Versus Bouncers Versus Swings
Baby gears come in various types. You can find baby jumpers, swings, and bouncers. However, these gears are different from each other.
A baby jumper is a baby gear that allows your child to bounce up and down when your baby kicks off the floor. On the other hand, a baby bouncer bounces whenever your child moves into his or her seat. A baby swing is a device that swings back and forth without requiring your baby's movements.
Types Of Baby Jumpers
There are different types of jumpers. Before purchasing a baby jumper, you should consider the different kinds as this should help you determine the best one for your child.
Stationary Jumpe

r

. This type of baby jumper is designed with a seat, a frame, and an elastic cord. This baby jumper often does not provide additional entertainment for your child other than bouncing.

Stationary Activity Jumper

. This type of jumper consists of a seat, a frame, an elastic cord, and a tray filled with various interactive toys. The toys vary from one model to another, but they all have one purpose which is to entertain your baby.

Doorway Jumper

. This type of jumper is often referred to as door jumper and is made up of a seat that is suspended from straps with clamps that attach to the door frame like cables.
Baby Jumper – What Is It?
A baby jumper is a gear that can be used by infants to play in and exercise. The original baby jumper is designed with a hoop suspended by an elastic strap. However, jumpers have evolved over the years with innovative designs and varied extra features.
Some baby jumpers now come with a hard plastic base, a frame and a suspended fabric with two holes where your baby's legs will fit. There are also jumpers that come with trays that hold additional baby toys.
What Are The Benefits Of Jumper For Baby?
A jumper is not simply a toy. It comes with multiple developmental attributes that are good for your baby. Just like baby walkers and cradling swings, a baby jumper promotes balance, mobility and soothing comfort in addition to other benefits.
Strengthens Muscle Tone

. In a way, baby jumpers help develop your baby's muscle tone and strength. However, it is also important to note that the gear must be used in moderation to avoid putting excessive stress on certain muscle groups from repetitive use.

Improves Walking Skills

. While a baby jumper is not really a walking device, this gear still helps develop pre-motor skills. Also, your baby will learn how to use his or her lower half through standing upright and improve his or her balance.

Promotes Safety and Comfort

. Jumpers provide a comfortable and safe place for your child to stay while you take care of quick tasks at home. Unlike walkers, your child will not be at risk of falling from stairs or moving aimlessly around.

Visual Stimulation

. Depending on the type of jumper that you purchased, this device often offers interactivity and visual stimulation to your child. There are jumpers that come with an activity center with various toys and sounds that your child can be used.

Interactive Activity

. Some baby jumpers are designed with an activity center with various toys and music, which promotes interactive, play time experience.
What To Look For In The Best Jumper For Baby
When shopping for the best jumper for baby, you should consider several factors.
Weight Limit

. Baby jumpers often have recommended weight limit, which can vary from one model to another. You should make sure that you purchase a jumper that is suitable for your baby's weight. Adhering to the weight limits will ensure that the jumper will not break and injure your baby.

Seat

. Baby jumpers are designed with different types of seats. You should opt for those jumpers with removable and washable seats. Also, it is also great if the seats came with height adjustment features and padded for your baby's comfort.

Support and Straps

. You should opt for jumpers with two or more elastic straps, as they offer more support as your baby bounces up and down.

Adjustability Settings

. Another important thing to consider when purchasing a baby jumper is adjustability. Adjustability will enable you to adjust the gear to ensure that your baby remains comfortable as he or she grows.

Portability and Storage

. Since a baby jumper can take up space, you should consider storage and portability aspect of the device. You will need to store the device when not in use. You should opt for jumpers that can easily be disassembled and stored.

Interactive Toys

. You have various options for this, as jumpers come with various interactive toys. In fact, some models even come with entertaining music and sounds.
Top 5 Of The Best Jumper For Baby In The Market
This bright and entertaining zoo-themed baby jumper will entertain your child. Not just that, this baby jumper also helps develop your child's motor skills and coordination.
This baby gear comes with a durable steel frame and non-slip footings to ensure your child's safety as your child bounces up and down. Also, this device stands alone and does not need any door frame to be secured because it is designed with a sturdy, free-standing frame.
The seat height can also be adjusted to three heights, which accommodates your child's growing legs. The device's seat spins 360 degrees so your baby is able to discover toys all around him or her.
This device can easily be assembled and dissembled for storage and portability. The tubes can easily be removed from the base.
Comes with a durable steel frame and non-slip footings
Adjustable height
Produces more bounce than other brands
Seat spins 360 degrees
Portable
Easy to set up
Interactive and entertaining toys
Difficult to rotate seat on its own
May need additional pillows for shorter babies
Has a tight fit for fat thighs
---
Your baby will love this baby jumper from Graco. This baby jumper is a fun way to entertain your child.
This device can easily be attached to a door frame for instant interactive and fun way to amuse and delight your baby. With its removable and washable seat pads, you can easily clean and maintain the seats.
Also, this baby jumper comes with special non-twist straps with a plastic dome that keeps the straps apart. Not just that, this device features height adjustability and weight limit of up to 25 pounds. Its no-mark clamps ensure that your doorway remains free from any marks and dents.
When it comes to portability, this is the best one there is! You can easily transport this jumper from one room to another. This way, you can do tasks and make sure that your child is comfortably playing nearby.
With its built-in toy tray with extra interactive play toys in a Little Jungle theme, your child will have fun with this baby jumper.
Interactive toys
Easy to assemble
Easily clean and maintain the seats
Adjustable height
Portable
Balance issues may be experienced especially when the baby leans on one side
---
With this baby jumper from Evenflo, you know your child is safe while he or she jumps, learns, and plays. Not just that, your child will also have plenty of exercises to strengthen certain muscle groups and improve your child's gross motor skills.
Its base has a soft landing pad that is designed to promote stability in your child's early development. This baby gear is designed to grow with your child with its three-position adjustable height setting, which is perfect for your growing child.
The device is also easy to clean and maintain with its removable and machine washable pads. This jumper is equipped with a wide surrounding activity tray. In addition, the seat actually spins 360 degrees giving your child access to all the exciting toys that come with this jumper.
This baby jumper also comes with smart interactive toys with fun lights and exciting music to further stimulate your child and promote a great learning experience.
Easy to assemble and clean
Adjustable height
Equipped with a wide surrounding activity tray
Interesting and fun toys and music
Swivel seat functions easier than other brands
Activity or toy tray is quite small
Bigger in size and not as portable as other models
---
Your child will love what the Baby Einstein activity jumper has to offer with its more than a dozen fun and stimulating activities.
Its interactive toys come with an electronic piano in three modes. It can play piano key tones, classical melodies, and language discovery in Spanish, French, and English. Other fun activities include the spinning frog bead, rattle drum, and link loops.
This baby gear is also designed with a secure seat with added height and padding for maximum comfort. Its seat rotates 360 degrees which provide your child access to the toys.
It comes with a five height adjustment option, which is perfect as your baby grows. This jumper grows with your child, which gives you the best value for your money! With this activity jumper, your child can safely play and learn while you do your chores nearby!
Entertaining and fun activity center
Come with an electronic piano in three modes
Seat easily swivels
Easy to assemble
Adjustable height
May require prop pillows for shorter babies
Takes up space
Not foldable and must be disassembled for transport and storage
---
This baby jumper helps your child improve his or her balance and develop the rhythm that will strengthen his or her muscles. Not just that, this baby gear promotes coordination and provide firm support that develops proper posture.
This baby gear is rather straightforward without any of the frills and toys that you usually find in most baby jumpers in the market. With its simplicity, this baby gear still offers various benefits to your child when it comes to the development of your child's muscles, coordination, and posture.
This device is portable and easily folds for transport and storage. You can bring this device anywhere you go and quickly assemble it for use. This baby gear can be adjusted according to your child's needs and height.
Though this device does not come with interactive toys and music, you can still hang some toys from the jumper, providing your child with visual stimulation.
Adjustable height
Easy to set up
Easily folds for storage and transport
Does not come with music and interactive toys
May require an assist to get child in and out of the seat
Conclusion
Since baby jumpers come with different features, you should take some time in deciding which device would suit your child's needs. In addition to the features, you should always consider your child's safety when purchasing the beast jumper for baby in the market.
It is also important to note that this baby gear should not replace a babysitter. Always make sure that your child is safe, and his or her surroundings do not pose any risks and hazards that may harm your child while playing on this baby gear.
The Luv U Zoo Jumperoo By Fisher Price, however, has taken the lead as one of the best ones that you can find on the market. It has taken the lead with all its great features in addition to exceptional comfort, safety, and support capabilities.
This baby jumper does not only help develop your child's balance and early motor skill functions but also provide learning and stimulation for the best interactive and fun experience.