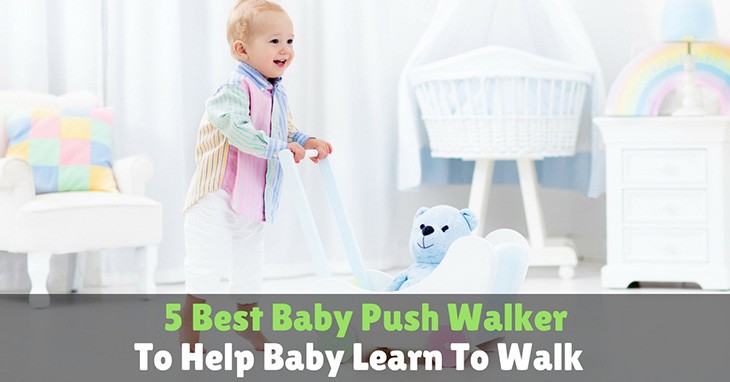 5 Best Baby Push Walker To Help Baby Learn To Walk
Babies, as they start to develop, will need some support to get them up and start walking and moving. At the age of one, most children already start walking.
To help them walk better, it is best to use a toy that supports them at this phase of their lives. A baby push walker is one of the best devices that can aid your child learns to walk.
More...
**Below, you'll find more detailed reviews, but you can also click links above to check current prices and read customer's reviews on Amazon.
5 Best Baby Push Walker To Develop Your Child's Motor Skills
Baby Walkers Versus Baby Push Walkers
A baby walker comprises a rigid frame with a sling seat and a set of wheels. With this device, children can sit on the sling seat and move around before they can crawl or sit alone.
A push toy or push walker, on the other hand, is different from a baby walker. This device does have wheels without the seat. This tool aids the child as he or she moves around.
Benefits Of Using A Baby Push Walker
Using a baby push walker offers various advantages.
1. Improves Gross Motor Skills
Push walkers provide support for children who are not quite ready to walk or stand on their own.
Using a push toy will help your child build strength and improve his or her sense of balance and confidence. This device also helps build your child's motor skills.
With the use of this toy, your child can learn faster and develop his or her motor skills so he or she can start walking on his or her own.
2. Stimulate Imagination
A push walker is often designed with colorful hues and additional buttons and toys. Its design encourages your child to become curious and imaginative. Also, this device helps boost your child's self-esteem.
Features Of The Best Baby Push Walker
Push toys or walkers come in various makes and models. The best push walker in the market should have the following qualities and features:
1. Stability
A great push walker should be stable enough not to cause any harm to the child as he or she learns to stand or walk on his or her own.
You should make sure that the base of the walker is heavy and steady. A sturdy base will ensure that the walker will not tip. A wider width is also essential, as this provides stability of the device.
2. Good Wheel Design
Good wheel designs can also make or a break a good quality push walker. You have to make sure that the wheels on the walker have enough traction to ensure that it rolls smoothly.
Less traction on the wheels can hamper the walking ability of your child. It also helps if the wheels can manually be tightened and loosened, so you will be able to adjust it according to your baby's age and needs.
3. High Quality And Safe Materials
The best push walkers are not only durable but are also made from safe and non-toxic materials. A high quality and durable device will ensure that your child will be able to use the toy for a long time.
Features To Consider Before Purchasing A Push Walker
If you are thinking of buying a push walker for your child, you would want to buy the best one that would suit your child's needs and preferences. Since there are various brands and styles to choose from, you need to consider several features before purchasing a push walker.
The first thing that you need to consider is your child's needs. You have to make sure that the push toy is already suited for your child at this phase of his or her life. Purchasing a toy that is way beyond your baby's needs may hamper his or her age-appropriate development.
Another important factor to consider in buying a push toy is the comfort. You have to make sure that your child will be comfortable in using the toy. You need to check the device's features like its size, height, and stability.
You should look into the materials of the push walker and make sure that it is safe for children. Also, you should make sure that the designs along with the additional toys on the walker are safe and not hazardous in nature.
Warranty is something that you should consider as well. You have to make sure that the device is protected with a guarantee so when it gets damaged or faulty you can have it replaced or refunded.
Five Of The Best Baby Push Walker In The Market
The Sit-to-Stand Learning Walker is an interactive learning push walker. It comes with removable toy panels that stimulate your child's imagination, creativity, and mental development.
It comes with three-shape sorters, buttons that light up, and a removable telephone handset which develops your child's motor skills.
Its wheels work perfectly on both carpets and hard floors, making it easy for your child to maneuver the device as he or she learns how to walk on his or her own.
Promotes mental and motor development
Allows your child to develop from a crawler to a walker
May still be used during floor playtime with its removable toys
Wheels come with rubber seams to prevent it from sliding and moving from side to side
Wheels have two-speed settings
Can be loud as music plays continuously
---
This push walker from Fisher-Price is another great push toy for your child.
It is comparable to the VTech Learning Walker, but it has fewer things going on its toy center. Despite this, its toy center still offers a fun learning experience for your child with the various hands-on activities that inspire imagination, curiosity, and creativity.
The toy center of this push walker comes with flipping panels, a spinning ball, and sliding beads. Also, the toys all sport attractive colors.
Pre-assembled and ready to go
Designed with fun activity center
Allows multiple safe activities for the child
Too lightweight and may tip easily
Moves fast and does not have any wheel brakes
No music or sounds
---
The 3-in-1 Bounce, Stride and Ride Elephant push toy from Fisher-Price is an exceptionally fun learning device for your child. This device comes in a cute elephant design with colorful lighting, pleasant music, and interesting sounds.
This push toy also features a 'grow with me' play system that enables your child to move in stages. First, your child learns how to bounce up and down. Then, your child can start taking his or her first steps with the toy used as a push walker.
Once your child's motor skills have been developed, this device can be used as a ride-on toy.
This device is designed with a very sturdy base which ensures that it does not tip easily when pushed. Also, this push toy can be used on hard floors, tile floors, and carpet.
Designed with a 'grow with me' play system
Easily transitions from one device to another as your child grows
Sturdy base and does not easily tilt when pushed
Comes with lesser extra toys for learning
---
The Wonder Walker Push and Pull Toy from Hape is one of the best baby gears that will allow your child to explore the world around them and help them to gain confidence.
This device comes with bright objects that your child can play. Also, with its moving knobs and sliding beads, your child will surely be entertained.
This push walker comes at a convenient height and is made from sturdy wood construction with rubber-rimmed wheels.
Sturdy wood construction with rubber-rimmed wheels
Made with non-toxic finish and child safe materials
Comes with a storage box in front for extra toy storage
Does not have any music or sounds
---
This push walker from Melissa & Doug makes learning to walk a fun and exciting activity for your child. This baby gear encourages motor development, mental stimulation, and hand-eye coordination.
This push walker is designed with a vibrant swamp scene and handcrafted wooden toys that are all made with non-toxic dyes and paints. It comes in a sturdy wood construction with non-skid wheels that move forward and backward and easy-grasp handles that promote stability.
Colorful walker with entertaining additional toys
Comes with easy-grasp handle, non-skid wheels and sturdy wood construction for stability
Requires adult assembly with the use of Phillips-head screwdriver
Paint may chip
Conclusion
There are a lot of baby push walkers in the market. The tricky part is finding the best one that suits your child's needs and preferences. You should consider the push walker that is appropriate for your child's age to make sure that it will promote your child's motor and mental development.
Among the five top baby push walkers reviewed, the winner of the roundup is the Sit to Stand Learning Walker by VTech.
It has a lot of great features that encourage your child's mental and motor development. It also allows your child to develop from being a crawler to a walker. The device is also stable enough with its rubber-seamed wheels and two-speed settings to ensure your child's safety while using the device.