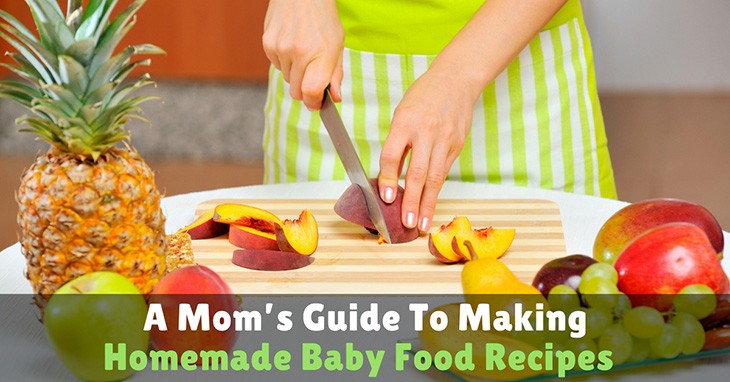 A Mom's Guide To Making Homemade Baby Food Recipes
Making homemade baby food is not difficult. It is economically friendly and healthier than purchasing commercially prepared food for your baby. Baby food recipes range from puree to recipes incorporating table food into recipes for baby. It takes less time than you think to create fresh, healthy baby food.
Making homemade food assures you and your baby no preservatives are used, and baby is only getting nutritious and tasty food.
More...
A Mom's Guide To Making Homemade Baby Food Recipes
Things To Consider When Making Homemade Baby Food
Before making food for your baby, consult with your pediatrician, especially if this is the first somewhat solid food the baby will be eating. Your pediatrician will suggest foods introduce to the baby and what foods should be eaten at specific ages or signs of maturing. If you choose fruits, vegetables and meat you like; your pediatrician may suggest better alternatives for different age groups.
Unless your baby displays a serious reaction to a certain food the first time, they experience it, offer the baby the same food four days in a row. This method will allow time for a food allergy to manifest and will help determine the food the baby likes and dislikes.
There will be some foods the baby will refuse to eat because of its taste, texture or smell, or even a combination of the three. It is not important for a baby to like everything offered. It is important the baby gets the right food with the proper nutrients.
Here are some easy 5 homemade baby recipes that are easy that both you and your baby will love and enjo:
[Read: Introducing Solids: How Much Rice Cereal For A 4 Month Old? ]
1. Banana Oatmeal Breakfast
How to:
Mix ¼ cup milk and oats bring to a boil, let cool about 5 minutes, stir occasionally. Mash banana and rest of the milk and add to the oats.
2. Chicken And Broccoli
1 can chicken broth
1 bag frozen broccoli florets
1 boneless skinless chicken breast
1 can cream of chicken soup
Infant rice cereal
2 ounces cooked ground turkey
1/4 teaspoon butter
1/4 cup peas
1/4 cup white uncooked rice
1/2 cups water
1 diced carrot
How to:
Boil water and butter on medium heat. Add rice, peas turkey, and carrots to hot water. Simmer covered for 20 minutes.Cool the food and serve.
4. Cinnamon And Sugar Covered Bananas
What you need:
1 banana sliced into bite sized pieces
Cinnamon and sugar
How to:
Slice up a banana and sprinkle cinnamon and sugar on top of each banana.Only sprinkle you do not want to fill the child up with sugar, especially in the morning.
5. Lamb And Apple Dinner
This is another complete meal in one. Lamb is a good source of protein, Vitamin B12, zinc, and niacin. The vegetables and the apple will provide ample supply of the needed vitamins and minerals.
What you need:
1 cup of minced or ground lamb
1 medium apple, grated, 1 zucchini, chopped
1 medium carrot, diced
1/2 cup of apple juice
1 pinch of cinnamon and tarragon.
How to:
Over low heat, slowly cook the lamb in a medium pot. Use its fat. When meat is almost done, add the carrot, apple and zucchini bits and pour in the apple juice. Stir to mix and cover the pot. Let simmer for about 15 minutes. Add the spices and continue cooking for another five minutes. Cool completely before mashing or pureeing.
General Advice
When preparing homemade baby food, always make sure your hands are clean, as well as the food preparation surface, pots or pans and cooking utensils. Wash fruits and vegetables thoroughly before preparing the baby food, and if meat is being prepared, rinse the meat with room temperature water. Always be sure the baby food containers are clean and sterilized for baby's protection.
If you are having a problem in feeding your baby, try these 5 homemade baby food recipes they taste good and are good for their health. You will feel good giving these nutritious foods to your baby.