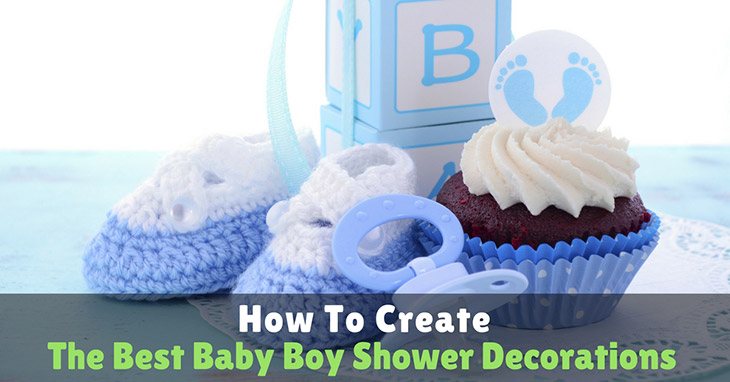 How To Create The Best Baby Boy Shower Decorations?
Planning and organizing a baby shower can be both exciting and time-consuming. Unlike planning for a baby girl shower, planning for a baby boy shower may seem difficult, as most people thinks that the themes and shower ideas are limited.
With proper planning and organizing, this issue can be resolved and you can find the best baby boy shower decorations. There are a lot of decoration ideas and baby shower themes that you can mix and match to create the perfect baby shower.
More...
Make your baby shower exciting, fun and memorable. Read on and learn how you can create a unique baby shower experience with these simple steps!
How To Create The Best Baby Boy Shower Decorations
What You Will Need
Plain colored cloth or cloth with desired pattern and color
Letter Cut-outs
Colored Papers
Spray paint
Glue
Diapers
Colored Strings
Pictures of animals or any desired shapes or stuffed animals
Theme related items like globe, maps, or chest
Balloons
Large and small boxes
Table
Tablecloth
Party Favors of your choice
Step By Step Instructions
1. Decide On A Unique Baby Shower Theme
The first thing that you need to do is to decide the theme of the baby shower, as this would help you decide on the colors that you will use for the materials.
For instance, if you are creating a baby boy shower decoration, you might want to go for color combinations like yellow and gray, different shades of blue or orange and black.
You can choose themes like the little traveler with airplanes, cars or map decorations. Another idea would be an animal themed baby shower. You can make use of stuffed animals and or animal pictures for this theme.
You can also go for simpler baby shower themes like a color combination theme with abstract patterns.
2. Prepare All Materials You Will Need
Before you begin making the decorations, you have to make sure that you have listed your decoration ideas. It is also important that you have already visualized what you want your baby shower decoration to look like.
Making a list of the materials that you will be using is important to make sure that you have everything ready when you start making your decorations.
This will also save you numerous trips to the stores just because you forgot to buy glue or any other important material for your decoration.
Once you have everything ready, you can start making your baby shower decorations.
3. Diaper Letters And Letter Banners
Making the diaper letters is simple. Using the letter cut-outs, you can place them on each diaper to form the name of the baby or simply stating "It's a Boy!"
You can stick the letters on the diaper using glue and make sure that the colors of the letters follow the chosen theme. You have to make sure that the letters are visible and big enough to fit the diaper. Here is a good example for diaper letters.
If you do not like to use diapers, you can simply cut triangular shaped papers to create your letter banner. You can still hang them using the colored strings.
4. Hang It Up!
Once you have already formed the diaper letters, you are now ready to hang it up. Using the colored strings, you can line the diapers and glue them to the string.
You can do it in one line or two lines, depending on your banner set up. Set this aside and put this up once you are done creating the backdrop for the baby boy shower.
You can also hang up quotes relating to the baby shower theme. You can pick your desired quote and create letters and hang them using the colored strings.
5. Create Your Own Unique Backdrop
In creating your backdrop, you can mix and match ideas and put them together. You have to be careful with this and make sure the decorations will blend together.
If you are using a plain colored cloth, you can use your creativity in designing it. If your shower theme is into animals, you can spray paints silhouettes of different animals on the cloth. You can leave the center blank so you will still have space for the diaper banner.
If you're using patterned cloth, you can leave it as is and add other decorations on it like a simple fabric garland. You have to make sure that the fabric that you will be using in making the garland will not overpower your backdrop.
6. Power Up With The Right Accessories!
To add a twist to your baby boy shower decorations, you can add in accessories and other additional designs. For instance, you can create large cut outs of airplanes, cars or animals and place them on the backdrop.
You can also design old chests or a globe and place them on your table for additional design. You can make use of stuffed animals and place them on the table if you are going for an animal themed baby shower.
If you are using balloons, you can make a balloon tower or other shapes that will relate to your baby shower theme.
Even if you are having a baby boy shower, you can still make use of flowers for your decorations.We often relate flowers with femininity. But, with the right tweak, this can still work on baby boy shower decorations. You can make use of fresh flowers or flowers made out of paper.
7. Set Your Table With Layers
On your table set up, you can cover it with a tablecloth. You can use layers and to emphasize your decorations.
In creating layers, you can make use of large and small boxes and cover this with the table cloth. This should help you create a layer where you can put your designs or party favors.
In the table, you can place your party accessories like an old chest, a globe or a small car. The accessory will depend on the theme that you have chosen for the baby boy shower.
You can also place your desserts on your main table and include this in your main table decoration. You can have cupcakes and other desserts on your table. Your food should also match the theme of your baby shower.
8. Unique And Useful Party Favors!
With party favors, you have the option to create your own or buy ready-made ones from the store. If you want a more affordable and exciting option, you can always create your own.
You can have party favors that are edible or something that your guests can put up as designs in their home. Another option would be to go party favors that are eco-friendly.
If you want party favors that are edible, you can have cookies placed in jars or sweet treats in plastic wrappers with tags. You can pre-order these great party favors from your favorite bakeries or you can even bake them yourself if you know how.
Eco-friendly party favors are quite unique. In your desired party favor containers, you can place seed papers that your guests can plant when they get home.
You can also use simple items like pint glasses as your party favors. With a few tweaks, you can already create something unique out of these simple things!
9. Put It All Together
Now that you already have all your decorations at the ready, you can now put them all together. You have to start with your backdrop. Place this in a strategic location in the party venue.
Place the backdrop at the back of the table where you will be placing party decorations, food, and party favors. You can place a set of balloons at each side of the table to add color to your design.
You can hang your diaper letter banner in the center of the backdrop. With your additional decorations like the large cut-outs of animals, you can stick them on the backdrop for additional design.
Conclusion
There are definitely a lot of decoration ideas that you can incorporate in your baby boy shower. The trick in making it a success is proper planning and organization. You can tap your imagination to come up with the best baby shower theme.
Once you have your theme, you can decide whether you want your decorations to simple or elaborate. The most important thing, however, is to make the event extra special for the mom-to-be and her little bundle of joy.
Be creative and make this even extra special! Though it may take more time to make the decorations, it is worth it. With the coming of your little bundle of joy, having a special and unique baby shower is one way you celebrate this event with your friends and family.
Do you have other helpful baby shower decoration ideas in mind? Share it with us and help mothers make their baby shower extra special.